#13 Soup brain
Beakies interview, space songs, flood coming
Hey there. Last week's letter is a result of my zealous backspace punching. Beside words, emotions were also deleted. It was a subconscious attempt, perhaps, to refrain from adding another voice to the anxiety or uncertainty that permeates even a small crack like an expansion joint on empty roads.
Or, perhaps, I don't yet have the language to express the physical responses I've been experiencing. Hollow below the eyes to the abdomen, constant heat behind the eye sockets, lowered heart rate, bright and blurred vision, lightness of the feet, a stone in my throat, a floating mind.
Flipping through the notes over the last few weeks. Happy, excitement, melancholia, sadness, trapped, anticipation. Ideas I thought were contradictory are now coexisting.
When I younger, I was fond of using graphs to explain complex ideas.
So, I tried.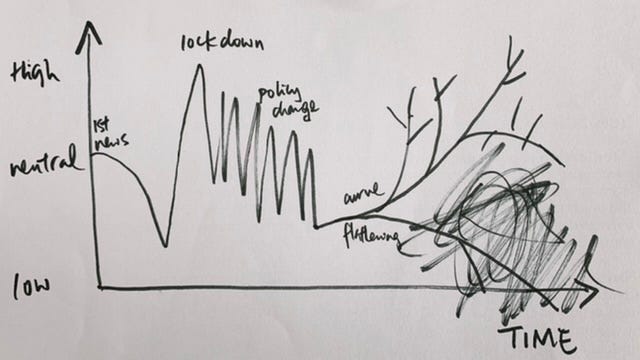 Emotion is too complex to be reduced to a diagram. What hope does it have if all of the world's art and literature can't completely capture the breadth of that soupy mix inside us.
And. Then. Come beakies.
They explain how I feel much better than I could have.
Interview with 16 beakies
I asked each of them how they feel about covid, pandemic, lock down, economy, future. ( There! I typed them out without euphemism!)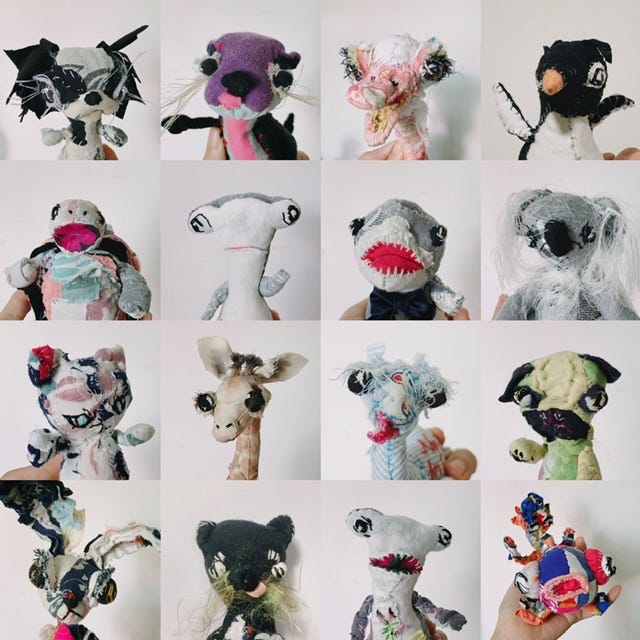 Left to right; top to bottom:
Row 1
Herman the japanese chin: Get behind me, I'll bark the virus away.
Gladys the otter: Let's hold hands.
Astrid the ostrich: Pandemic? How do you spell that?
Jerry the penguin: One can only try.
Row 2
Gabe the tortoise: To hell with it. Life goes on.
Gordon the hammerhead: It's time to be brave.
William the great white shark: For real?
Eugenia the koala: It's about time.
Row 3
Rhonda the tortie cat: Put that mask on and get out of my face.
Gracie the giraffe: Maybe when I wake up it will be 2046 or 1918. Not covid but virus by some another name.
Carrie the camel: Let it burn.
Pierce the pug: Told you so and you won't listen and now I'll have to worry about you 12 more hours than the current 12 and that's a lot of worrying to do.
Row 4
Jo the hare: And then we wait.
Ben the bearcat: Tonight is the night I sneak into the forest where they can't lock me down.
Heather the hammerhead: It sucks. so what?
Tammy the goldfish: Time for a new shore.
Art in progress
The wise one is coming along. 'Wise' is my wishful thinking. It will be whatever it wants to be. Even at this stage, I sense it is judging me for putting it in a pigeon hole.
One of the best thing about lock down is animals. I've seen more lizards in a week than the last ten years.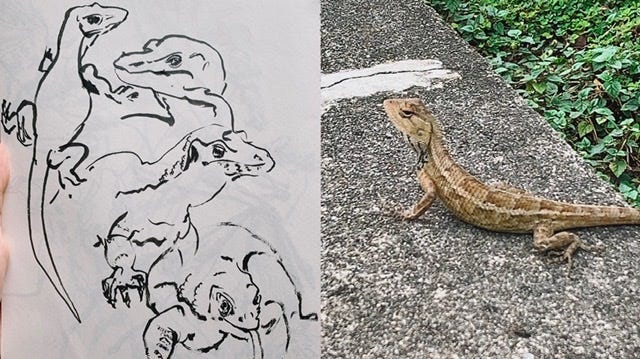 Heather hammerhead and Tammy goldfish will be listed for adoption on 13th May, Wed, noon GMT.
Read
Just like every week, I spend a sizeable proportion of my free time reading—fiction, non-fiction, science articles, culture gibberish, and rubbish of all sorts—everyday and guess what, nothing to share. Because my mind is soupy...liquid and nothing forms and soapy... full of bubbles and they even pop!
Fun
The Wolfman Museum website reminds me of old html hand coded websites, the good fun kind. Compared to the currently popular flat designs, the frustrating navigation strangely mimics the experience of physically visiting a gallery to hit a 'closed' sign after walking 3 flights of stairs. Except, 3 clicks to a dead end is much easier on the legs.
Finally we've arrived in Blade runner style world with strip club drive-through with dancers in masks and gloves.
Listen
Sabicas's flamenco guitar topped up my drained emotions.
Elixia by Oskar Schuster is fairy tale like music that transports me to the optimistic side of future.
Immersing in Ben Prunty's FTL game soundtrack feels like there might be an alternate future. If all fails, click restart.
Smithsonian's National Air & Space Museum's Space Songs. Space & isolation. And, hosted by Adam Savage. Really good with a bowl of dosa chips (below).
Eat
As mentioned in my previous letter, To meet the minimum for beans and grains delivery I had to buymany items not usually in my pantry. One of them is semolina.
With it, I made rava dosa! I used this recipe. Mix semolina (the coarse type), rice flour, plain flour in 2:2:1 ratio, add water, salt and chopped onions (conveniently ignoring everything else). After which I deviated from instructions (accidentally of course) and left it on the pan too long. The result is a onion flavoured personal-pizza-size salt crisp. Later, I did the same again, deliberately.
Arrabiata penne but increased to one and a half bird's eye chilli per serving. It was so spicy I couldn't tell perspiration from tears. Salt water heals all wounds.
It's about all for the week. I'll leave you with a poem by Ada Limón.
Flood Coming, credit: poemhunter
See you here next week, marn.
---
You can support me by clicking the little heart above, share this letter with others or give beakies a home.