As I reached for my hand sanitiser, bun-bun fell out of my bag. He fell face down onto the weeds peeking from the cracked edge of the sidewalk.
I froze.
Except for his creamy back side and the unloved plants that buries his face, everything else faded into the background.
Should I pick him up with potential virus? The loops on his terry skin isn't gonna be cleaned with hand sanitiser. I can't risk contaminating the food in the only bag I was carrying.
He was just a sock anyway—a free airline sock.
If I returned an hour later with another bag, he could be a lizard's meal.
I took a surgical mask out of it's paper wrapper, looped it over my ears, on top of the cloth mask on my face.
I placed bun-bun in the centre of the wrapper, rolled gently and put him in my pants pocket and continued walking home.
Bun-bun (middle, long rated bunny) in the embrace of his fellow beakies, after a two-hour swim in the washing machine.
" You become responsible forever for what you've tamed. You're responsible for your rose."-The Little Prince,
---
Hi there, you. Tis me, marn.
Do you remember the Boiling Frog fable? It is often employed to illustrate the idea of creeping normalities. I've always been the frog. This week, I've finally hopped out of a pot despite the accompanied throbbing headache and raised heart rate. I'm in good hands. My mentor—Nonono—whips me into shape.
I've diverted most of my energy to dealing with the above boiling frog issue. Reading, cooking, sleeping, and art making have all been spare as this letter. Thank you for still being here.
Eat
Plant based confectionery has been hard to come by since lock down. My husband has been whining like a kid. I braved 1-foot-narrow aisles in an Indonesian specialty store to purchase 10 blocks of coconut sugar. Is it love or a pacifier?
With the new brown blocks of sweet treasures, I made sesame brittle inspired by this Indian recipe. I've conveniently overlooked most ingredients except sesame, sugar and cardamom, in the ratio of 150g: 100g: 5 pods. Spread into 1/2 inch thick slabs to cool.

Bitter black sesame balances the otherwise excessive sweetness perfectly. Crunchy black smiles.
Art in progress
What is a week or a month in the life of a tortoise? He is in no rush in getting made. I added a dozen stitches here or there whenever I had the mind space. I slashed his head opened, reshaped, stitched closed. Repeat. I must have done it about 5 times now. Was it actually an attempt at rearranging the contents of my own head?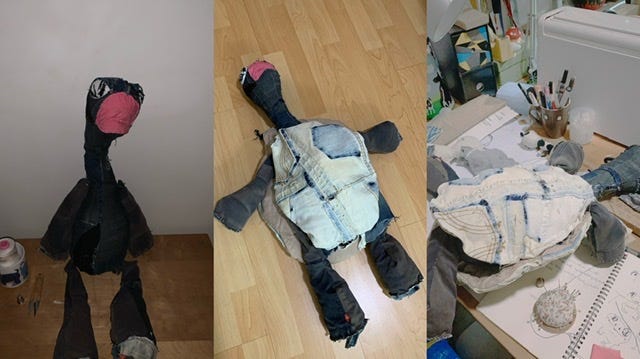 Running an hour late on dinner prep already, and bought time by stuffing the husband with sesame sweets above. Here is The flower by kim chun soo (credit Jaypsong.blog), and see you here next week, marn.
---
You can support me by sharing this letter or clicking the little heart at the top. Or hit reply, any feedback is welcomed.