#16 Mighty girls
We can be mighty
Hi there. Mighty girls will be up for adoption on the noisybeak website.
I made these few many months ago (except thread-head—who was born after the pandemic). A few days ago, I took new pictures of them. As I tilt my phone left and right trying to get good light, they remind me how they were made.

In the beginning, there was Nonono. It was a blank face on a twisted body made of high stretch ribbed cotton. I was so disappointed with the asymmetry but decided to see my effort to the end. I stitched the annoyed face I saw in the mirror. Blunt stab marks made of thread, in the same manner of my fountain pen drawings. She made me cringe. She is me living inside my skin whom I've accidentally let out of the bag. There is no going back for her, or for me.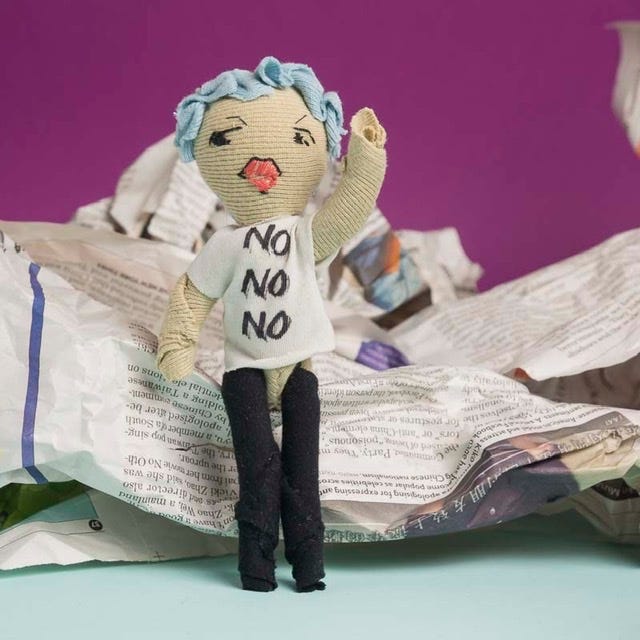 Then came more girls. Whenever I was haunted by the past, and wished I had done differently. There is no going back. Perhaps try going in circles, going forward to the same place again, next time as a mighty girl.
---
Eat
I can't contain my excitement for this eggplant stew recipe. The genius in this recipe lies in three words—do not stir. Not only is it easier, cleaner, but bursting with flavour from the stirred in brown bits in the end. Try it try it try it. It's the best bang for your time. By the way I substituted a Japanese sweet potato for potato.



Listen
Halina Czerny-Stefanska's luminous interpretation of Chopin In love with Chopin is what hope sounds like.

Read
Finally got back to reading an entire book. Being fully absorbed in a book, read line by line, page after page, seems to rest the brain.

Jessica Chiccehitto Hindman's memoir Sounds like Titanic is laugh out loud funny, never a dull moment. It's about touring while fake-playing the violin. I picked up the book because it was available on the front page of my local e-library. The breadth and depth of the book caught me by surprise, and all heavy themes are dealt with a light hand and a heavy heart.
---
This is the last week before the 'unlock' of this island country where I live. When that happens, school resumes every other week, children get to visit grandparents, hairdressers for pets and their humans are back in business. How I live, move or scavenge will not change for a long time.
The last few letters, as well as this, have been short not due to a lack of things to say but quite the opposite. I'm protecting you from my delirium, while I run to my beakies for solace.

Another story for another week. marn.
---
Do you like what I do? You can support me by adopting a beakie, sharing this letter/ ig @noisybeak, or click the little heart at the top of this letter.