Hi.
I've been wearing mask for 4 months, and locked down for 2.
The first month sped by as I run after groceries on foot. So much of the brain was allocated to making a not-bad choice based on: distance, crowdedness, time of the day, heat, availability, weight, tiredness based on the sum of all that. Frequency vs ability to carry over X distance vs heat over an amount of time affected by the number of people to avoid. I'm tired just typing this out.
Phase 2
Middle of this week, I found out that we were leaping from phase 1, a state almost identical to full lock down, to phase 2, a full opening except large venues like stadiums and churches. I felt sleepy all day but couldn't sleep. I ate too much and too little. My body was trying to shut down. I stretched the food but had no choice but go out.
On day one of phase 2, my husband snapped at me within 10 minutes of leaving home. The sudden increase in traffic got to him. My nose itched and lost focus. Pollution from a factory not even nearby got to me. A car gleefully missed my rear bicycle wheel the split second traffic light turned. People moved around with masks, but under the nose, on the chin, while automatically reduced the the regulated distance of a mere 1 metre. The impatience has returned. Maybe it has never left them, but resided within their four walls, hidden from me.
I have been thinking about writing a list of all the positive changes in the last 2 months. But I was afraid the changes written down weren't not as good as they look in my head, or they were so good I feel I've wasted my life up to this point.
Changes
Over the last two months, there were many days I couldn't think. But on days I could, my mind was clearer than ever.
I could finally shut out the noise.
When even essential services like grocery delivery became a lottery, the choice I was left with is the most direct one.
When I want something, I go there with my feet and get it with my hands. That is good. Sitting on my balcony, the sky a brilliant blue yet blessed with breeze to evaporate the sweat from our perennial tropical sun. That is good. Birds and squirrels squabble on the tree make me laugh. That is good.
I'm thankful for whatever rotating supply is available that nourished my body, while testing my mind with creative cooking skills. I'm thankful my body has adapted to walking 90 min to a shop and 90 min back with 5+ kg in my hands, all while the sun has lasered the less-determined out of the way.
Paying attention
I could go on forever on the positives, but they really point in the same direction.
I've learnt to pay attention: to the cat with a black patch who occupies the slope or to how much the neighbour's papaya tree has grown. And to myself.
With nowhere and nothing to escape to, no bus to rush for, no weekend to mark the difference, I've been more attentive to myself. I could no longer blame the stranger, the traffic, or the heat for my mood. I had no choice but to take responsibility for everything that I am. The pandemic has turned from Wally in Where's Wally to a portrait in a plain coloured background.
---
Beakies
Textile art in progress
I'ven't made as many beakies as I'd thought I would. I'm scared of what I'm making. So I go really slow.
The daily neighbourhood walks make me make cats.
Beakies have always had swivel limbs (because it's fun to point and kick), but recently I'm exploring the idea of fixing their gestures. I don't know what I feel about them. Just need to talk to them more.
Beakies for adoption
I've been pushing hard in listing beakies for adoptions. The heart is always heavy. Like one wouldn't describe a loved one by height, weight or colour, yet I had to with beakies. But more than the pain of numbers, I fear losing the part of me I've put into them. Will that part no longer be of me, or will it grow back, or has it never left? I've come to realise they will be continuing the journey with someone else who loves them, no less than I do for them.

Runa and Grape pussmina are available in the shop.
Blanket and Astrid are getting ready next.
---
Read
Books read
explains gender inequality in Korea through the life of the protagonist. I feel I have more empathy for the otherwise perplexing modern Korean culture. A bit slow and dull but short, a small time investment for a glimpse of the female identity in the Korean culture.
A sequel to Days Without End which I love love love. This one I don't love. A balance of vivid imageries and internal dialogue full of quirky metaphors can't making the non existence plot engaging. Anyway still a good read for the connections the writing make in my brain.
Wish I hadn't read
This page turner turns out to be a dud. Yikes. It's not short. The multi-city and burst cast of unique characters promised so much and delivered so little. After reading I feel empty inside, and cheated of my time.

Books not read
3 is how many times I tried reading this, months apart. Couldn't pre-pandemic, couldn't during. This story about pandemic that scores high on so many reviews is so anemic in every way I gave up trudging half way through chapter 1.
Half way through and maybe I'll return to it next year. Detailed depiction of the inner world of 1 character approaching the death of another. The reading experience is like watching a Japanese movie, slow pensive tackles the details as well as philosophy. It's making me think so much about my friends my past I need to shelf this for self preservation.
Articles
How astronauts thrive in small spaces
Reminder! Take care of yourself so you'll be effective and not get so depleted that you become a liability in an emergency.
An interview with therapist trauma specialist Resmaa Menakem—actually in audio but I read the transcript. "Trauma decontextualised in a person looks likes a personality." Now I'll have to filter everything I thought I knew through this revelation.
---
Music
Stumbled upon only this morning. Initially drawn to the album cover but became mesmerised by the sound. My husband says it makes him feel weird. I think the playfulness is perfect to start with day with.
TV
Each episode is short, sharp and wrong. Every time I laugh I know I shouldn't. Guilty pleasure.
---
Cook
Since lock down, since not eating out, since shopping on bike or foot at least an hour one way, I have been simplifying kitchen work. Every time I spend more than half hour in the kitchen, I need to produce one meal for now and 2 meals for keep.
Malaysian-Chinese Style Vegetable Curry
This week occupants of the fridge are containers of curry. I replaced commonly used dried shrimps and fishes with preserved turnip (capers will do), and throw in a mix of kidney beans and chickpeas to thicken the sauce and for protein. I've been having throat problems from consuming UHT coconut milk a few days in a row, and replaced it with fresh shaved coconut. Initially I followed well meaning instructions and blended coconut in water to make milk. The difference is negligible, so I would just threw coconut straight into the pot next time.
Unlike curries of Indian origins, this nonya curry is of Malaysian and Chinese mixed heritage. A little sweet soy sauce surprisingly balances the otherwise astringent taste nicely. Timing isn't crucial, it's just blend and stir. I served with rice, naan, stir-fry water spinach and cucumber pineapple salad.
Naan
My stomach has been having problems with too much white flour since whole meal disappeared from the shelves during lock down. This time I experiment with 3 parts plain flour: 1 part oats : 1 part finger millet flour, pinch of yeast, pinch of salt, curdled soy milk, aquafaba.
Doesn't get pillowy like the white version, but super nutty and my stomach hasn't rebelled.
Scone
Using the same dough, I make a half inch round, cut into 6s, slap it onto a hot skillet for afternoon snack with jam and homemade vegan butter.
Thought I can't remember how real butter taste, I remember putting slabs of cold butter on bread and feeling like a criminal. This first attempt at vegan butter makes me feel equally dangerous, matching pace with the state of the world.
---
I'm thankful for you for giving me a chance to be me, for spending the time each week, reading these words I didn't know I could string together, Marn
---
I depend on your support for making art, for writing this letter, for posting wacky beakie photos on ig. You can help me by adopting a beakie, sharing my newsletter / instagram, and clicking the little heart on this page.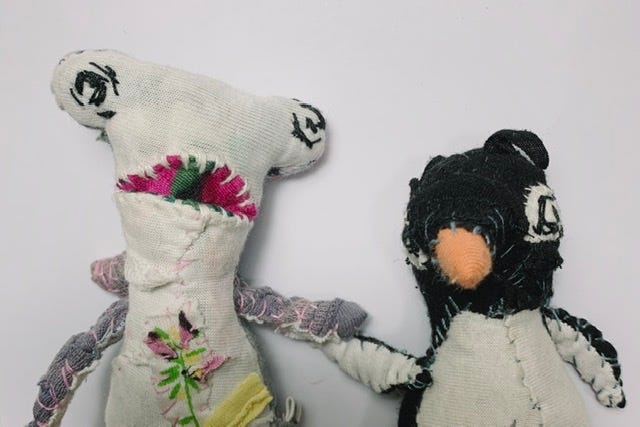 Beakies available for adoption.